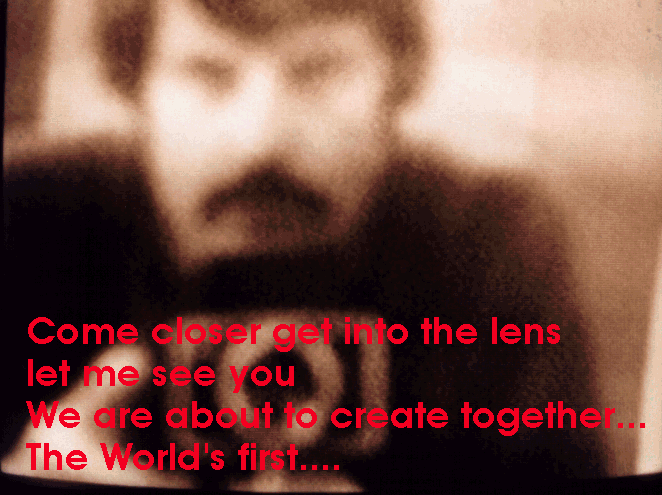 COME CLOSER GET INTO THE LENS LET ME SEE YOU WE ARE ABOUT TO CREATE TOGETHER...
THE WORLD'S FIRST...
(Click here if want to see a close-up of yourself with your nose on the screen before plunging on ahead: CLICKCLICKCLICK CLICKCLOSER CLOSERCLOSERCLICKCLICKCLICKCLICK).
THE WORLD'S FIRST WHAT ? YOU ASK. DON'T WORRY. SOON YOU'LL KNOW. BUT FIRST LET ME ASK SOMETHING FAR MORE IMPORTANT:
WHO ARE YOU? And you don't have to worry about how to answer this question, either. At every step as you move through these words, images, and pages, you'll find ways to tell not only me...but the entire World (Wide Web).
The temporary author-artist of these lines and this work is Douglas Davis. In face he (cf. me) is facing you at this moment, from a moment in 1973 when he, that is, me, tried to focus the lens of his video camera directly on you, the viewer on the other side of the then-imperial TV screen. Well, we have broken that screen down many times then--"we" being the early video artists determined to destruct the big lie that TV was a "mass" one-way medium, you, impatient viewer who lusted for something better (and finally got it, in lots of ways), and the inexorable roll of technological innovation, moving us finally into the digital era and THIS MEDIUM, the InterNet/Web, where you take over from me....
But not yet, please. Wait just a few pages....hold out your hand there...yes, I think I got it...your fingers...hand in hand let's look through....
ALL THE GOOD DIGITAL BITS YOU CAN RETRIEVE FROM US ALONG THE WAY...
Mostly taken out of an exhibition, 'INTER ACTIONS (1967-1981)," organized by the Lehman College Art Gallery, part of The City University of New York system, curated by Susan Hoeltzel, director of the Gallery. Opened in November , 1994, the "Off-Line," three-dimensional presentation of Inter Actions thrived at Lehman, together with two performances linked to other galleries and sites in Manhattan and Geneva, Switzerland, through February of 1995. BUT IT'S STILL ALIVE, HERE AND NOW, ON THE WEB, ON YOUR TERMINAL. And changing, as you will see, every day of every week of every year that it lives here.
Credit for making all of this--including THE WORLD'S FIRST....-- possible goes entirely to Susan Hoeltzel and to the combined expertise of Prof. Robert Schneider, Mathematics Department, Lehman, Prof. David Gillison, Art Department, Lehman, and Gary Welz, WWW site designer and Internet journalist/author, who became, finally, the full co-designer of this page, as well as of its technical--and even its spiritual--concept. This site is presently maintained by Simone Smith. If there are any technical problems please feel free to mail her.
But credit for THE WORLD'S FIRST COLLABORATIVE SENTENCE goes to You, as you will see...,
And to Mr. and Mrs. Eugene Schwartz, the courageous collectors of contemporary art who provided us the funds to perfect this work...long before the world even knew that "Digital Art" existed.
The sudden passing of Eugene Schwartz in September, 1995, leads us to rededicate these lines and this work to his memory. The artist confirms that his "Lifetime Sentence" was inspired from the first by his mind and brilliant imagination. He pledges to describe, define, and honor this man throughout the Sentence as long as it (and he) goes on.
And now it is your turn to select from our delicious menu. CLICK on anything you want to see RIGHT AWAY. Go back to "Home" i.e. this very page - whenever you change your mind and want something, anything else:
BUT FIRST! LET ME LIST FOR YOU ALL THE GOOD DIGITAL BITS YOU CAN RETRIEVE FROM US ALONG THE WAY:
LATER, OR EVEN RIGHT NOW, YOU'LL ALSO LUST TO KNOW HOW YOU CAN READ THE BIGGEST SENTENCE OF ALL TIME AS IT GROWS, AS WELL AS ADD TO IT...SO CLICK ON "THE WORLD'S FIRST....." WHEREVER YOU SEE IT